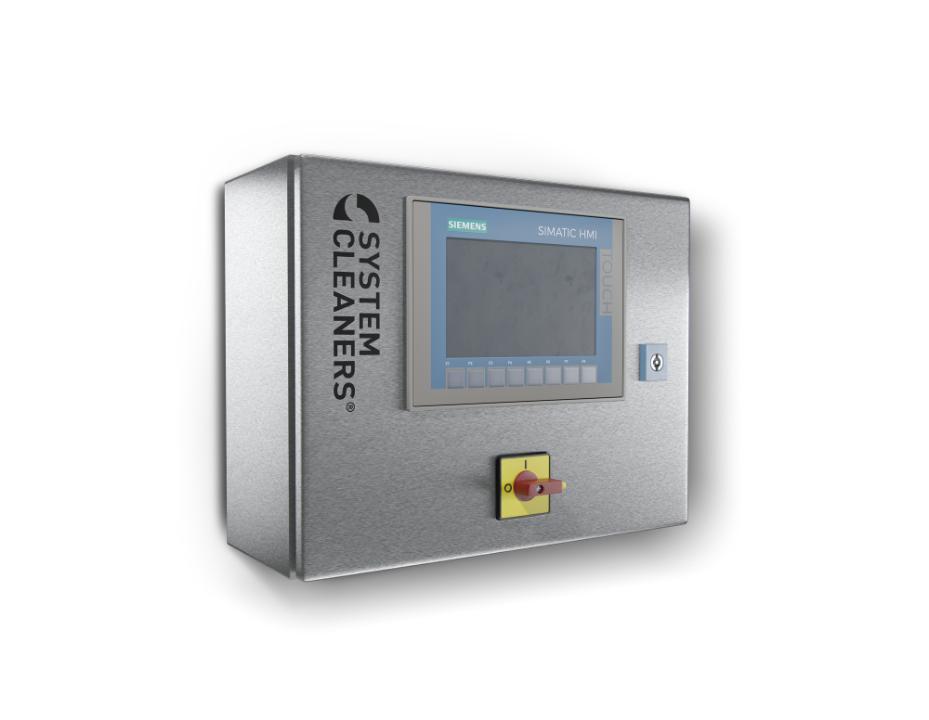 Controller CV18 3P
A controller is used to control the functions of the automatic main station AM/AMM and the automatic satellite station AS/ASM
The controller uses an electrical signal to control the functions of the various nozzle systems connected to the automatic cleaning solution, as well as the duration of the operations and the sequence of the cleaning steps.
It can control up to 18 segment, 8 different cleaning programs and 3 different detergents. The interface is intuitive and easy to use and a cleaning program is created within minutes.
See below for additional features.
Cleaning program made within minutes - steps sequentially through segments:
Pre-rinse segment 1, pre-rinse segment 2, …
Foam segment 1, foam segment 2, …
Pause
Rinse segment 1, rinse segment 2, …
Disinfect segment 1, disinfect segment 2, …
Pause
Final rinse segment 1, final rinse segment 2, …
Air purge segment 1, air purge segment 2, …
7" touch screen (color)
Data logging functionality
Available with Siemens and Allen Bradley controller
Easy installation and commissioning
Cleaning program is created within minutes without special skills or traning
Intuitive operation, easy to use HMI (Human Machine Interface)
Password protected cleaning program
Robust panel and stainless-steel cabinet
Possible interlock with equipment to be cleaned
Input from suction lances
Up to 18 segments
Up to 8 cleaning programs
Up to 3 products

Options:
Adjustment of pump pressure.
Air ON/OFF option for each product
Low-pressure cleaning with boosted water offers a range of benefits
Significant reduction in cleaning time

Reduced water and chemical consumption
Less wear on processing equipment and affected surfaces
Improved work environment
Low maintenance and service requirements

Better heat
transmission
Get in touch with us
If you are interested in getting more information about our open plant cleaning solutions or have any questions or queries, please fill out the quick form and we will get back to you as soon as we can.