Major challenges require strong solutions
Balancing the need for maximum production time and optimal cleaning can be a challenge to any food or beverage processor
In order to increase market share and maintain a positive brand awareness, it is essential to ensure a clean and safe processing environment to prevent any irregularities in the final product that may otherwise damage your brand.
Sometimes a standard cleaning solution will do the job and sometimes it takes a customized solution. What matters the most is that the solution matches your specific requirements and challenges.
A System Cleaners solution is designed to deliver and to last, and our solutions are based on three decades of extensive experience from the food and beverage industry.
We have a skilled team of employees and a vast network of distributors that will assist you in finding the open plant cleaning solution that suits your needs.
Automated open plant cleaning solution
Implementing automated cleaning in your food or beverage processing plant offers numerous benefits in terms of optimizing hygiene and food safety as well as operational costs and production time. A uniform cleaning result will ensure consistent product quality and added brand value.
Manual open plant cleaning solution
Applying our manual open plant cleaning solutions in your food or beverage processing plant offers a high degree of flexibility in the choice of equipment and enables you to find the combination that matches your specific requirements for a cleaning solution.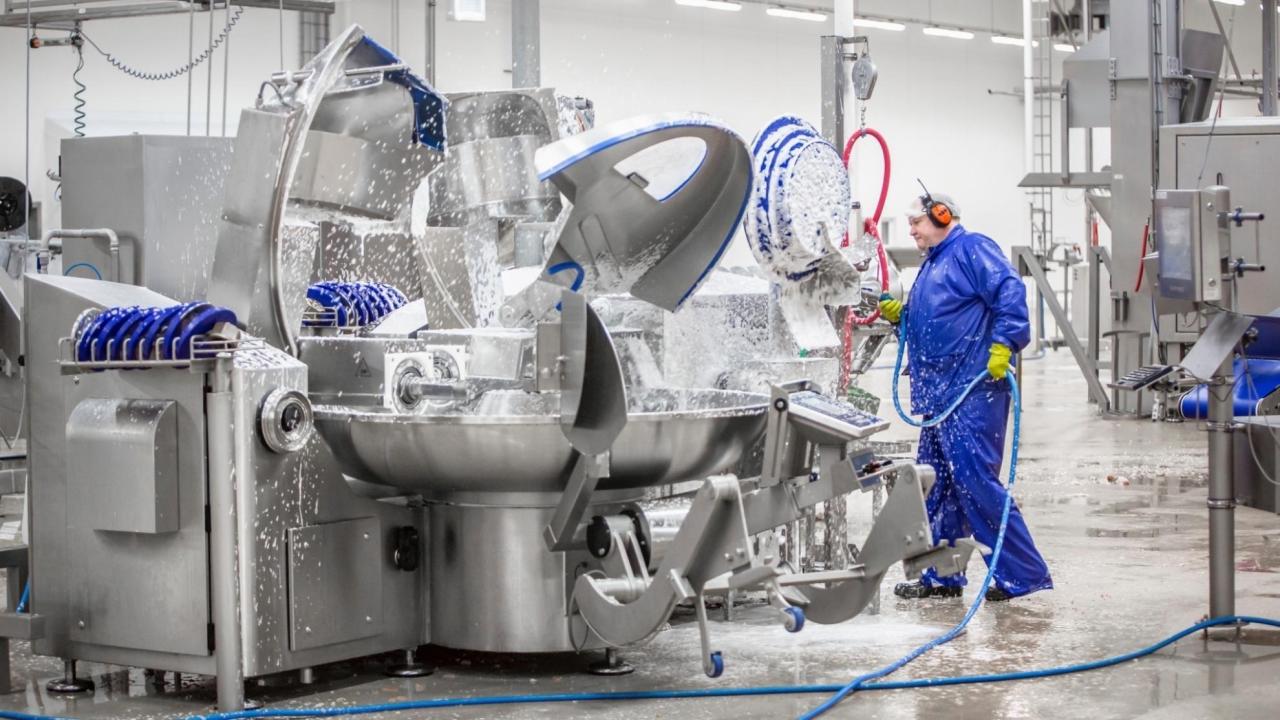 Mobile open plant cleaning solutions
Our mobile open plant cleaning solutions provide you with an alternative to manual and automatic cleaning. It may be that e.g. limitations in the construction of your processing plant prevents the implementation of automatic or manual cleaning solutions, or that you simply want a flexible cleaning unit to be used in several locations. If you want to implement mobile cleaning, a range of options is available.
Applications
Not all food and beverage processing equipment is readily cleaned. Residues may settle in spots not easily reached by a standard cleaning solution. A wide range of aspects must be considered when designing the optimal cleaning solution for this type of equipment.
We have the experience to help you in this process.
Getting a consistent and high-quality cleaning result every time by integrating automated cleaning means:

Significant reduction in cleaning time, extending production time and facilitating higher through-put
Improvement in hygiene and food safety levels
Consistency in product quality – no contamination
Significant reduction in water consumption
Reduced labour costs – fewer employees
Higher safety levels
Our products
Our automated solution for spin chiller cleaning and sanitation can be customized to match any chiller. Standard components are combined into a unique solution to match the specific requirements, and the solution can be applied to all types of spin chillers.
The design is hygienic and intuitive, and they are made from high quality materials. By applying stainless steel for the vast majority of the components, we ensure that our products are solid and with a long lifespan.
We're here to help
Investing in an automated cleaning solution has a significant and positive impact on a wide range of parameters. We have developed a framework in which we can enter your details and, based on these, see what you can gain in terms of production time, capacity and profit.
If you're interested in more information about how we can help you maintain a high level of hygiene and food safety in your processing plant, don't hesitate to contact our Sales team for an informal chat.
We are ready to listen.