Hoses
In addition to high chemical resistance, durability and food grade properties, flexibility and easy handling is also important when cleaning in the food and beverage industry. The cleaning staff has to operate efficiently, and a kinking hose with limited protection will not be able to handle the conditions for long.
The SC40 hose has been optimised through many years to meet the demands of processors, and can be applied for industrial cleaning in all segments of the food and beverage industry. Super material properties of the hose make it a high-performance, safe and reliable hose capable of meeting the severe conditions of a processing environment.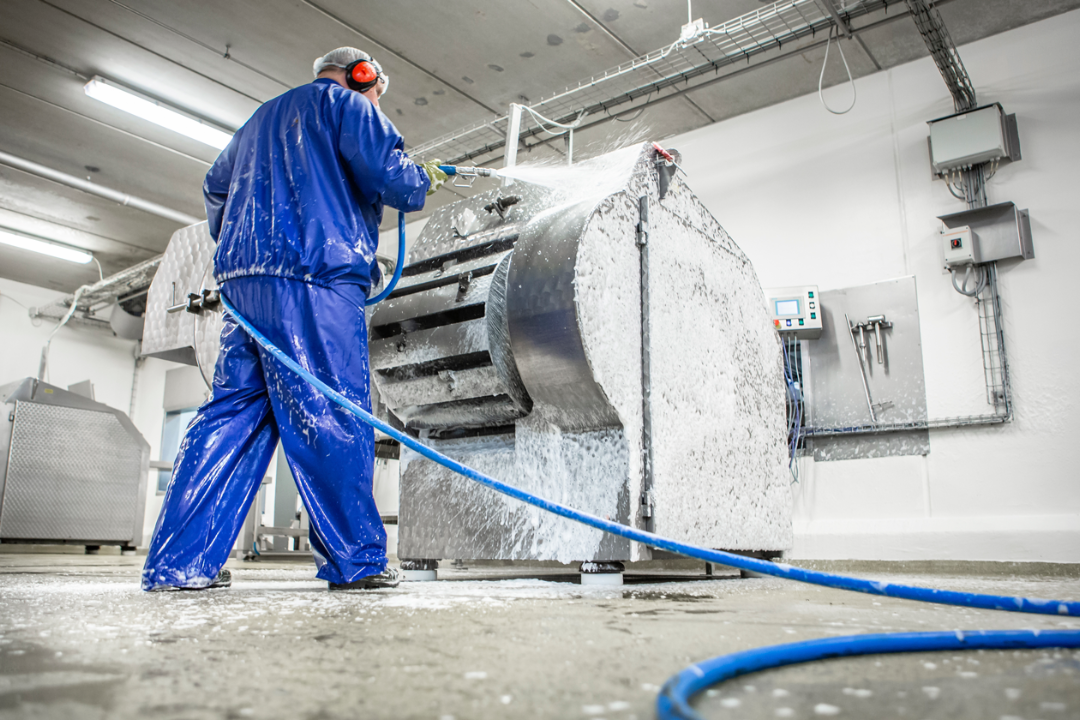 SC40 properties
Exceptional temperature performance (up to 70°C at a max. working pressure of 50 bar).
Six-layer design with double polyester reinforcement provide flexible handling:
1. Non-staining, light blue outer coating in food grade PVC able to withstand fatty acids as well as conventional chemicals.
2. and 4. Polyester reinforcement.
3. and 5. Intermediate layer: flexible, black PVC withstanding conventional chemicals.
6. Inner layer in flexible, grey PVC with high temperature resistance.
Excellent kinking resistance.
The SC40 is designed in accordance with the specifications of directives 2007/19/EEC and 10/2011/EU, following the amendments for material in contact with foodstuffs.
Low-pressure cleaning with boosted water offers a range of benefits
Significant reduction in cleaning time

Reduced water and chemical consumption
Less wear on processing equipment and affected surfaces
Improved work environment
Low maintenance and service requirements

Better heat
transmission
Get in touch with us
If you are interested in getting more information about our open plant cleaning solutions or have any questions or queries, please fill out the quick form and we will get back to you as soon as we can.